DEPARTMENT OF MECHANICAL ENGINEERING
Mechanical Engineering is the biggest department of the institute with student strength around 500 and sanctioned intake is 180. The department has well qualified and dedicated faculty and is know for his academic standards. The department has center of excellence in the field of Computer Aided Design & Computer Aided Manufacturing (CAD/CAM) with latest design & analysis software. The department is contributing its best to train the brains and with the aid of well qualified and experience faculty and ultra modern laboratories.
The department focus on Value Addition Courses and developing overall orientation towards the manufacturing industries and frequent industrial visits, guest lectures and training by prominent industrial experts.
Prof. S. N. Shinde
Head of Department

| Name of Staff | Designation | Qualification | Experience |
| --- | --- | --- | --- |
| Prof. S. N. Shinde | Head of Department | Ph.D.*,M.E. Design | 13 Years |
| Prof. A. V. Dhumal | Assistant Professor | M.E. Design | 8 Years |
| Prof. S. H. Pawar | Assistant Professor | Ph.D.*,M.E. Design | 4 Years |
| Prof. D. B. Bhadane | Assistant Professor | M. E. Machine Design | 7 Years |
| Prof. S. S. Patil | Assistant Professor | M.E. Thermal | 5 Years |
| Prof. K. G. Patel | Assistant Professor | M.E. Mechanical | 8 Years |
| Prof. A. K. Mishra | Assistant Professor | M.E. Thermal | 4 Years |
| Prof. S. R. Bire | Assistant Professor | M.E. Design | 4 Years |
| Prof. K. P. Joshi | Assistant Professor | M.Tech. Design | 5 Years |
| Prof. K. S. Shivade | Assistant Professor | M.E. Design | 5 Years |
| Prof. P. R. Pingale | Assistant Professor | M.E. Design | 3 Year |
| Prof. G. A. Deore | Assistant Professor | M.E. Design | 3 Year |
| Prof. S. Y. Gaware | Assistant Professor | M.E. Design | 3 Years |
| Prof. G. R. Jeughale | Assistant Professor | M.E. Design | 3 Years |
| Prof. T. A. Bora | Assistant Professor | M.E. Design | 3 Years |
| Prof. D. D. Pagar | Assistant Professor | M.E. Design | 3 Years |
| Prof. P. B. Jadhav | Assistant Professor | M.E. Design | 3 Years |
| Prof. S. S. Gangurde | Assistant Professor | M.E. Design | 3 Years |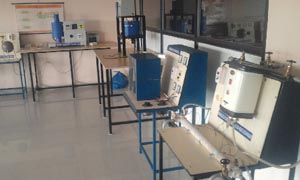 LABORATORY
Basic Mechanical Engineering
Refrigeration & Air Cinditioning
Theory of Machines
Hydraulics & Pneumatics
Metallurgy
Heat transfer Lab
Strength of Materials
Heat Transfer
IC Engine
Dynamics of Machinary
CAD CAM
Drawing Hall
Workshop
Computer Center